New Client Offer:  10% off first treatment :  
Loyalty Incentive:  10% off every fourth treatment
Payment methods:  BACS, Debit or Credit Card. Paypal or Cash
All treatment times are approximate and will include a short consultation. Following the treatment you may wish to allow a short time to gather yourself together.
NB:  I am a strictly professional therapist and only work with gentlemen I know or who are referred to me by friends/clients.
HOLISTIC THERAPIES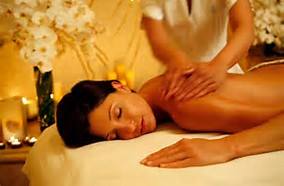 Aromatherapy Massage:   Full body (1hr) £38,  (1½ hrs)  £48,  Half body (30 mins) £23  – uses essential oils blended with base oils which are not only inhaled but are absorbed through the skin into the bloodstream where they are transported to the organs and systems of the body. Different oils act on the body in different ways and can be energising, relaxing, uplifting or calming.  NB:  clients are asked to retain their underwear during aromatherapy massage.  (Full body massage includes massage of the hand/arms, feet/legs and face.  It is sometimes called Total Body Massage).
Swedish Massage:  Full body (1hr) £35, (1½ hrs)  £45,  Half body (30 mins) £20   –  uses a variety of stroking, kneading, pressure and flowing movements over the body and can simply be used for deep relaxation or to treat and prevent a variety of complaints (including muscle aches and pains, headaches and migraines, depression, poor circulation, anxiety, stress and insomnia).  Swedish massage can shorten recovery time from muscular strain by flushing the tissues of lactic acid and other metabolic wastes. It increases circulation without increasing heart load.  NB:  Clients are asked to retain their underwear for all massage treatments.  (Full body massage includes massage of the hand/arms, feet/legs and face.  It is sometimes called Total Body Massage).
Indian Head Massage:  (40 mins)  £25    –   is based on the ancient Ayurvedic form of healing that dates back almost 4,000 years and was introduced to the West in the 1970s. It can be used for physical harmony, for healing, for vitality and for relaxation.  Indian Head Massage can release muscular tension,  eyestrain and tension headaches, can improve circulation which relieves mental fatigue and improves concentration as well as increase lymphatic flow which helps detoxify the body.  Indian Head Massage can be received as a seated treatment or as a laying down treatment. NB:  Clients may be either fully or partly clothed for this massage, depending on their preference.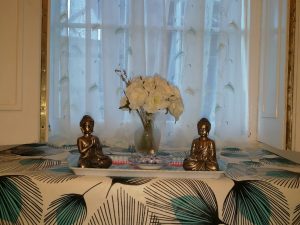 Ear Candling aka Thermal Auricular Therapy  (45 mins)  £25    –  dates back centuries when it was used by the Egyptians, Romans and Greeks. Ear candles are hollow tubes moulded from natural linen fabric impregnated with beeswax and may also contain honey, sage, St Johns Wort and camomile.  The candles act like a chimney, drawing impurities out and the column of warm air rising in the candle can massage the ear drum while pressure in the sinus cavities and ears is equalised.  Ear candling can relieve ear or sinus problems including build-up of earwax as well as circulatory problems in the ear.  Each candling treatment concludes with a neck and face massage. NB:  Ear candling is not recommended if you  have perforated eardrums or have had grommets inserted recently, if you have high blood pressure, are in the first trimester of pregnancy or if you're experiencing an ongoing ear or sinus infection. 
Holistic Facials can improve skin texture and appearance,  have a focus on massage, can be very relaxing and help to reduce minor skin imperfections (using  certified organic Bay House products). Please see the 'Luxury Treatments' tab for more detail regarding facial treatments.  
| | | | |
| --- | --- | --- | --- |
| Skin Refresh Facial | revive your youthful glow | Luxury (1hr) | £35 |
| | | Mini facial (30 mins) | £20 |
| Anti Ageing Facial | reduce the appearance of fine lines | Luxury (1hr) | £40 |
|   | | Mini facial (30 mins) | £23 |
ENERGY HEALING (Holy Fire III (R) Karuna Reiki (R), Usui Reiki, Angelic Healing, Chakra Balancing & Healing with Crystals)
The energy systems of our bodies (aura, chakras, nadis and meridians) are connected energetically to our physical organs, glands and bodily systems. When the energy supplied to these systems is disrupted (e.g. by negative thinking or poor diet), the organs and systems of the body are less able to fight disease and injury. 
Physical, emotional and mental stress and trauma can become blocks to our personal development.  They can be stored in our bodies, affecting our ability to function at our full potential.  Energy healing supports the healing process by clearing blocks in the energy fields, repairing and rebalancing the energy so the body can work at its peak level of balance and from where it can access its ability to heal itself.
Other forms of energy healing include Reflexology, Kinesiology, Thought Field Therapy,  Acupuncture, Aura/Chakra balancing and Crystal healing.
Reiki
Universal Life Force energy flows within the physical body through pathways called chakras, meridians and nadis.   It also flows around us in a field of energy called the aura.  When this flow of energy is disrupted (e.g. by negative thoughts) it can impact upon the organs and tissues of the body.  It is a system of natural healing based on channelling healing energy through the hands to the client. It is a healing technique thought to be thousands of years old and to have originated as a Tibetan Buddhist practice rediscovered in the 1800s by Mikao Usui, a Japanese Buddhist.
Reiki is a simple, gentle technique which can balance and increase energy, can detoxify your bodily systems and be deeply relaxing as it enhances the body's ability to heal itself.  NB:  Clients remain fully clothed during Reiki treatments. 
Holy Fire III (R) Karuna Reiki (R)  –  Holy Fire energy is more refined and comes from a higher level of consciousness.  It's both powerful and gentle and provides purification, healing, empowerment and guidance.  It was introduced in 2014 by William Rand of the International Centre for Reiki Training (ICRT).  I'm currently offering face to face and distance Holy Fire healing sessions.  
1hr  £30 / 30 mins £17 
(Aura Clearing – also known as  Psychic Surgery – available upon request: )
Angelic Reiki: 1hr £30  /  30 mins £17   –  is another system of energy  healing which with the Angelic Realms and is a powerful hands-on healing method that brings about healing and balance on all levels. It is a powerful means of personal development and transformation. Working together with Angels and Archangels therefore allows Angelic Reiki practitioners to reach deeply into all areas which require re-balancing and healing.  NB:  Clients remain fully clothed during Reiki treatments.
Chakra Balancing & Healing with Crystals: 1hr £30  /  30mins  £17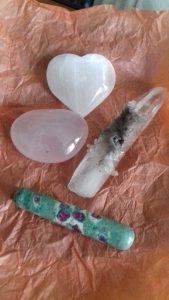 Crystals have been used for healing since ancient times and by many cultures for the relaxation and harmony they seem to invoke. Crystal healing and chakra balancing aims to balance the body's energy and restore harmony through the placement of crystals on and around the body.   A treatment will offer you the opportunity to lie down and connect to your body's energies and leave you feeling calm, refreshed and de-stressed – an ideal start to maintaining and improving your well-being.  NB:  Crystals are piezoelectric (i.e. generate an electrical charge when squeezed or pressed), hence caution should be exercised with pregnant ladies in their first trimester and those with epilepsy, diabetes or those who wear pacemakers as crystals may possibly affect hormone levels, sugar levels and electrical equipment.
PRODUCTS USED in the treatment room
Skin Care: Organic (Bay House) – certified by the Soil Association, Cosmos and the RSPO
Massage base oils: Organic (Bay House) – certified by the Soil Association, Cosmos and the RSPO
Essential oils:  Organic (Bay House) – certified by the Soil Association, Cosmos, Aromatherapy Trade Council and the RSPO